It's common knowledge that sleep is essential for growth and development, especially in children and infants. Parents spend months trying to perfect a sleeping room that provides the best rest for their children. They then pack their little ones off to childcare centres with their fingers crossed that the positive sleep routine continues. Centres do their best to replicate sleep patterns and habits, but naturally, a childcare sleeping room differs from a personal nursery.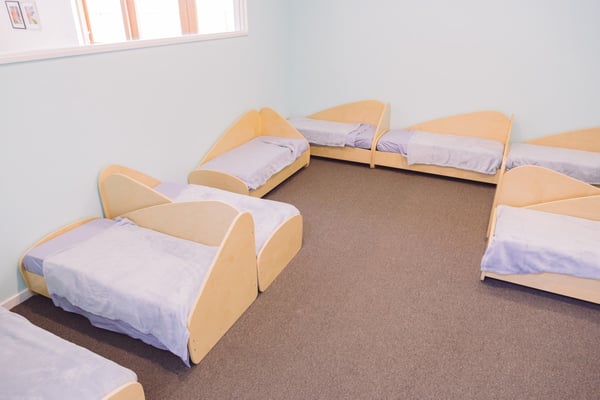 Customised Space Saver Wooden Beds
The Ministry of Education have regulations in place to ensure childcare centres are providing safe sleeping spaces for children and infants. The full article can be found here, but here are the top five key features every childcare centre sleeping room should have.
1. Adequate Sleep Furniture
First and foremost, children need somewhere to sleep! Suitable options include;
Cots
Stretchers
Beds
Mattresses
The suitability of these will vary depending on the children's age, but it does give the centre flexibility to use what fits best in the sleeping room space. There needs to be an adequate number of sleeping spaces available. For children under two, at least one sleeping space must be available for every five children in a session, or one for every two children in an all day facility (PF36, PF38).
These sleeping spaces must be suitably spaced to ensure ventilation and minimise the spread of illness (HS10). They must also allow enough space for children to lay comfortably, as well as sit and stand safely upon waking if the child is able to do so. In our Tiny Tots cots demonstration we tap on some of these common issues.
2. Clean and Hygienic Bedding and Mattresses
It is imperative that mattresses allow for safe sleeping and bedding is kept in an hygienic manner. Unlike home nurseries, sleeping spaces at childcare centres are shared by multiple children so particular care must be taken to ensure clean, safe spaces. Children must be provided with their own bedding (or have parents provide it) and mattresses must be fully covered with a suitable waterproof protective cover (PF30, PF31).
In between uses, bedding must be hygienically stored. If individual bedding cannot be provided, it must be washed after every use. Naturally, this would be a huge task, so individual bedding like drop-side cots are often a more preferred option.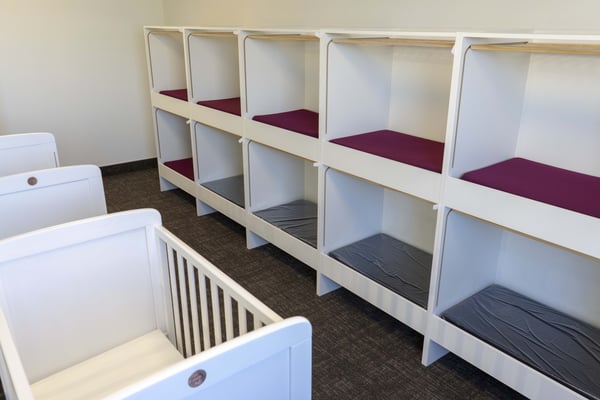 Multi-level Cots provide a safe and ergonomic sleeping environment
3. Minimal Fluctuations to Minimise Disruptions
It will come as no surprise to hear that children sleeping in childcare sleeping rooms experience more disruptions than they do at home. However, there are certain measures a childcare centre can take to ensure some fluctuations are kept to a minimum. These include temperature, light and noise (PF37). An appropriately set heating or cooling device, lights that remain off and white noise or calming music will help minimise sleep interruptions, therefore ensuring adequate rest.
4. Adequate Supervision and Procedures
Children must be checked regularly during their period of sleep. A viewing window can help with this, although this may alter the light levels within the room, but it won't help when checking the temperature or breathing. Therefore, a member of staff must physically check in on sleeping children to uphold the safety and well-being of the children whilst they are sleeping (HS9). Parents must also be able to see a record of their child's sleep. This is very useful for parents to know how much sleep their child has received and enables both the centre and parents to work together to combat any sleep problems.
5. Space for Adults
The sleeping room must have enough space for adults to move freely, safely comfortably. They must have access to at least one side of the sleeping space – the length, not the width (HS10). This ensures they are able to effectively soothe and calm a child if necessary, as well as remove them safely from the sleeping space.
It is important to not only follow the guidelines set by the Ministry of Education for safety purposes, but to continue to improve your facilities, to ensure your centre is providing a top quality service. The best childcare centres are the ones that implement change when necessary. These five features are examples of how updating procedures and effectively using furniture and technology will ensure an exceptional sleeping environment, one that will set your centre apart from the rest!